Friday, December 21st, 2007
---
11:03 pm
- One Track Mind...
Wednesday, December 12th, 2007
---
12:47 pm
- Cartoon of the Week
Nothing's more soothing before work than some afternoon cartoons:
Shin Chan
Monday, November 26th, 2007
---
11:22 pm
- Virtual Railroadings Finest Hour

The commentary is hilarious though I can't tell whether they're speaking Spanish or Italian.
Monday, November 12th, 2007
---
9:38 am
- Rickshaw Automotons
Beijing, like Columbus, is said to be like Los Angeles without the beach. But the rural areas are pretty flat and undeveloped, with mountains looming in the north above the tombs of the Ming Emperors. Somewhere out there beyond the bright lights and smog of urban Beijing, a farmer is building himself a household suite of robot servants:

Sunday, November 4th, 2007
---
10:35 am
- I have a job
Friday, October 26th, 2007
---
11:13 pm
- I want to play Shadow Hearts
Appearently there's a rpg out there that combines my some of my favorite settings: WWI and Paris! Its called Shadow Hearts: Covenant and here's a wolf fight. Wolf fight!

Friday, October 19th, 2007
---
11:43 am
- News Digest
***Sound of Morse code on the wireless***
Since I'm bored here's the interesting news of the day, with commentary: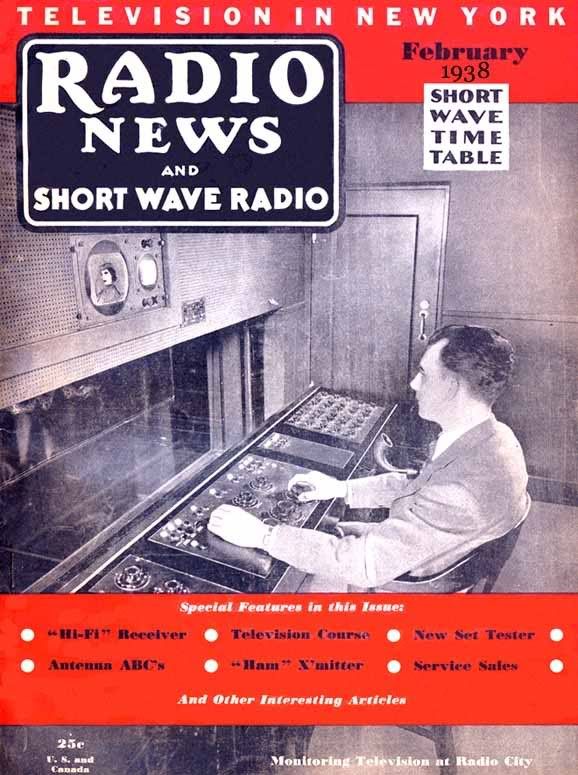 ---

A computer controlled anti-aircraft gun kills 9 and wounds 14 in South Africa, heralding the onset of a terrifying new concept, a "rebellion" of "robots" against humanity! Or perhaps a software glitch caused by a mechanical malfunction.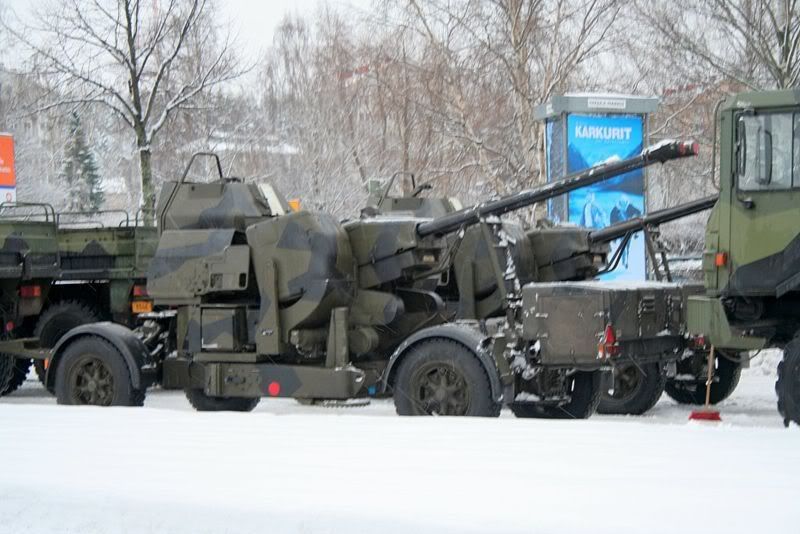 A picture of the culprit, a SP 37mm cannon in use by many nations.
---

Azerbaijan, a country whose name I can't spell and need to cut and paste, is a focal point for diplomatic tension between the US, Russia, and Iran. It's an American ally bordering Iran, but agitators in league with the Iranian Revolutionary Guard are trying to overthrow or destabilize the government in favor of an Islamic regime. The situation is complicated because the nations of the Caspian Sea fall under Russia's sphere of influence. The Americans want to establish a military base from which to strike at Iranian nuclear installations. However, this could lead to problems with Russia as well as further destabilization of the current government, for an American military presence would be immensely unpopular with the people. Read Karl Rahder's Washington Post article for more details.

Azerbaijan's location on the Caspian Sea, nestled coziley in with Iran.
---
Friday, October 12th, 2007
---
11:28 am
- Praise the Lord!
This was a pretty good episode of Mr. Show...

Friday, October 5th, 2007
---
11:30 am
- Review of Spooky Places
Since I have a fondness of spooky things and places, and since this is October, and since I have little else to post about, I introduce you to... the Review of Spooky Places...

1. Plantation Graveyard

---
---


Location: Near the mouth of the Cape Feare River.

Resting Place of: Roger Moore, the Rice King of Wilmington, NC. Lived before the time of the American Revolution.

Why it is spooky: the graveyard is on sandy, swampy ground, isolated by the former rice paddies of the plantation that have become overgrown marshes. As in many North Carolina graveyards near the coast, the older graves are in crypts above ground. Very few people frequent the site.

Dan's Spookiness rating: 5 out of 10.

Check out the rest behind this lj cut...


(

Read more...Collapse

)
Wednesday, September 26th, 2007
---
1:44 pm
- I Want this Job
Spider-Man Actors Needed!!
---

Reply to: general@marvelappearance.com

Date: 2007-09-26, 12:18PM EDT





Are you interested in becoming a Marvel Super Hero? We are looking for talent to portray Spider-Man for upcoming live appearances which include store openings, in store promotions, mini shows, trade shows, etc. You must be at least 5'10" to 6'2" tall, be physically fit and in shape to wear the spandex costume (spandex is not forgiving). You also must possess a thorough knowledge of Spider-Man and his Amazing Friends (Spider-Man is a speaking character). We are looking for responsible, creative, funny and smart individuals to portray our characters.. If you are interested, please email your interest along with all of your contact information/body dimensions/photos including full body shots to general@marvelappearance.com. If you would like to learn more about us, please check us out at www.marvelappearance.com
Wednesday, September 19th, 2007
---
1:58 pm

Last month a funnel cloud apparently touched down on Lane Ave, but without any real damage. This menacing wall cloud spun over the Neil Ave building near my brother's apartment, but alas we didn't get to see a tornado.




After finding it impossible to concentrate long enough to actually read books cover-to-cover, I have now decided to read books chapter-by-chapter. It seems that I can read three or four books at once and keep making progress just so long as I read by chapters: today I read three of Walk Two Moons and two of A Moveable Feast.
Besides reading more, I've been trying to find a steady job. After going through many long cycles of encouragement and dissapointment, I think I'm going to have a minor breakdown. I'm a college graduate with no practical experience, and so as far as the job market goes I've fallen down a deep hole. I'm a nonentity sending out reams of blank resumes to uncaring hr departments. The poetry in my soul is eclipsed by the red numbers in my bank account, and even the time I've spent unemployed and looking for a job begins to count as a black mark on my record.

Problem: I have a humanities degree. People assume I want to teach primary or secondary school. There is no other practical use of those of my ilk.

Problem: I have no experience. Actually, I have many experiences. Not everyone has climbed the Great Wall, or walked through a glass furnace, or fired a cannon. But those don't really count.

Problem: I intend to go to graduate school. Should I just lie and say I'll persue some hourly, entry level job for the next fifteen years? Not that I don't take work seriously, but I don't intend to spend the rest of my working life behind a mechanized pallet jack or a counter either. I don't think anyone should, unless they've got a pension coming.

Ah well, enough whining. All I really want is interesting, rewarding work that pays regularly. It doesn't even have to pay well, if the job itself is rewarding enough. But in the meantime, as in right now, I'm going to apply for anything that will get me a paycheck.
Friday, September 7th, 2007
---
11:40 am
- History Geek
Lifted wholly from my new(ish) blog on the other side of Internet-town, on blogger, which I call HistoryGeek, I give you a report from my latest trip to the Ohio Historical Society.

---

Located in the ugliest structure in town (with the possible exception of the OSU School of Architecture), in one of the scariest neighborhoods of the city, the headquarters and museum of the Ohio Historical and Archeological Society is nevertheless one of the hidden jewels of Columbus. Here are some highlights of the Society's collections: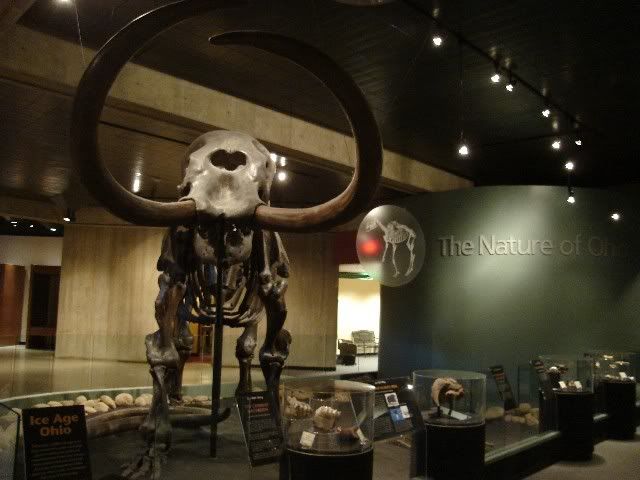 The entrance to the Natural History exhibit at the Ohio Historical Center is flanked by the impressively large skeleton of a Woolly Mammoth.


(

Read more...Collapse

)


Also here are some creepy scenes from the Old Franklinton Cemetary in the Bottoms:

The area was surrounded by warehouses, rail yards, and machine shops in the down-and-out neighborhood known as the bottoms.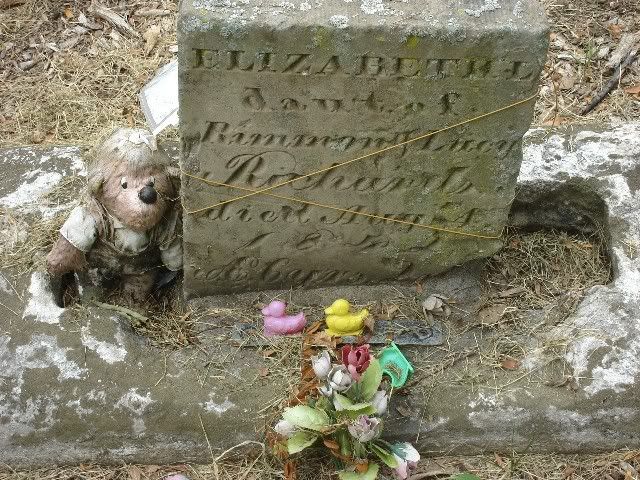 Someone had been decorating these graves, most of which were smashed out of recognition and dated back before 1840, predating Columbus itself.
I thought this thing was a real dog corpse... creepy.
But it was just a velvateen stuffed animal, slowly rotting into the earth.
Tuesday, May 22nd, 2007
---
9:12 am
Well, I'm back in Ohio for good. At least, for the foreseeable future. I've been job hunting and trying to reorganize my life since I got back a couple weeks ago, and doing some writing. Reenacting season begins this weekend with the First Siege at Fort Meigs. I'm pretty excited because I get to use this (my new M1795 flintlock musket, with bayonet):

---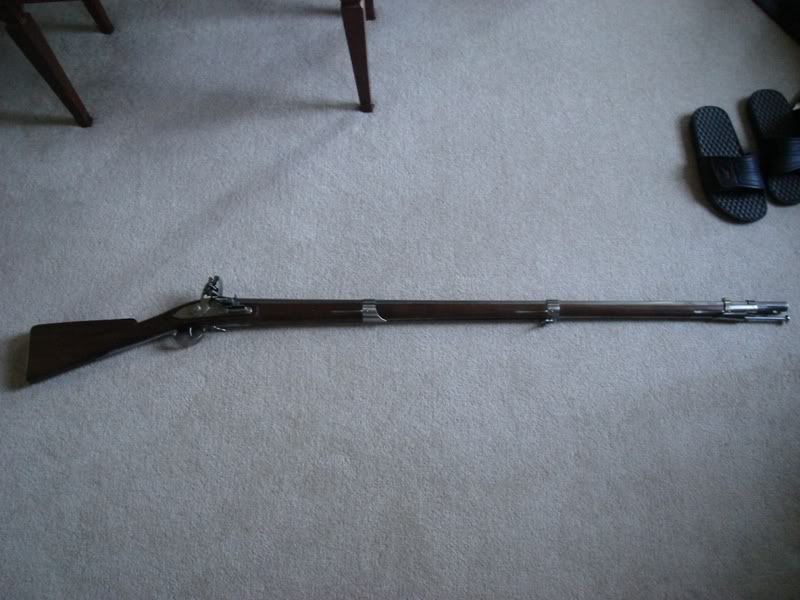 ---

I ought to get in touch with all my Columbus friends, whom I have shamefully neglected during this, my vagrant period.



In the meantime, I've been working on more fiction projects: one is a historical short story involving pirates. Actually, pirates are very hard to write fiction about, if one wants to make it very accurate. Tracking down primary sources is difficult, and the standard sources (such as Alexander O. Exquemelin's Buccaneers of America raise as many questions as they answer. One of the things that has always piqued me is the pirate sub culture that has grown up in recent years. For example, the overblown and cartoonish fantasy of the Pirates of the Caribeean series. The original ride was more or less taken right out of Exquemelin's book: mid-17th century, buccaneer fleet exchanges salvos with a Spanish fort, then moves in to sack a coastal town. Along with a Gilbert and Sullivan-esqe ballad by way of a soundtrack. And, the climax of the ride, when a drunken pirate accidentally touches off a powder magazine, actually happened (to Henry Morgan, who was dining with his officers aboard a man-of-war when the ship's powder magazine went up and took most of the crew with it: Morgan miraculously survived). But alas, instead of moving more towards fleshing out the historical context of buccaneering, piracy, and privateering in the New World (and each of these things, while intimately related, does have a different meaning), Hollywood makes what is in effect a live-action cartoon. (Though, given what a pile of shit The Patriot was, it's probably better that they didn't even try. I think I'm going to follow this rant up with an explanation as to why Patriot was even worse history than it was cinema.)
Which in itself is okay, but the real story of the pirates is far more engrossing, though most people will never hear it.

---

Ah, I can't leave you with that rant and not recommend some books that talk about real pirates:
Osprey Elite: Pirates 1660-1700 Alright, there's a cheap omnibus of three different Osprey books: Buccaneers, Pirates, and Privateers. You can find it at a used book store like Half-Price pretty easily. Like most Osprey books, it provides a good run down of typical tactics, equipment, and historical background of the sea-rovers, and has lots of illustrations. It doesn't go too in-depth, however, but here's the essence of what historians know about pirates.
Buccaneers of America This is the main primary source that most secondary sources, online or printed, use when talking about the early Buccaneers and Henry Morgan. The author, whose nationality is disputed, sailed with a French West India Company convoy in 1666 to Tortuga as an indentured servant. When the company pulled up stakes there, his indenture was sold to a local planter from whom he met much abuse. Finally buying his freedom after being sold to a physician, but without any means to get back to Europe, he signed on aboard a buccaneer fleet as a surgeon, and in at least one voyage sailed with Henry Morgan himself. When he got back to Europe he published his recollections of Tortuga, Hispaniola, and the famous buccaneers. The printers in London who were selling an English translation were sued for libel by Morgan(!) who by that time was a respected gentleman, a favorite in the court of Charles II and the governor of Port Royale, Jamaica.
Anyway, I urge anyone with a passing interest in piracy to check out these two books...
Monday, April 23rd, 2007
---
10:14 am
- well...
Well, it appears that I'll be working in North Carolina for a few more weeks than I'd expected, but at least I get to leave for a few days to move all my stuff back home. I need to buy a car so that I'm not tied down in the back country.

Anyway, I've been driving up to Toledo/Columbus every now and then for visits. It takes ten hours to get from here (which is approx. five miles from the S.C. border) to Toledo. I hate having the sense that I'm driving through a good portion of the eastern United States to get home without being able to stop and see some cool stuff. But a month or so ago I stopped on my way north to see Pilot Mountain, which is a precipece a few miles from the Virginia border and the Blue Ridge.


(
Read more...
Collapse
)
Saturday, April 21st, 2007
---
3:20 pm
- It's like something a James Bond villian would think of...
Friday, April 6th, 2007
---
7:59 pm
- Majora's Mask - Chapter 2-1
Tuesday, April 3rd, 2007
---
7:17 am
- Obligatory Fox News Rant
I really hate Bill O'Reilly (and O'Reilly is Fox News in much the same way that Mao Zedong was the Chinese Communist Party after 1967). That in and of itself isn't too uncommon, but I feel that every single byte of hate posted on the Internet about him will somehow tip the karmic balance and somehow or other his foulness will be turned back upon itself

(

Read more...Collapse

)


So anyway, I was browsing Digg this morning and came upon this little gem: a novel written by Bill about a tv journalist who murders his employers. Will Bill O'Reilly become the next John Grisham? Expect to see this book in a supermarket mass-market rack near you!


(

Read more...Collapse

)
Monday, April 2nd, 2007
---
8:42 am
- bookings

Uh, livejournal doesn't support javascript? No matter, I'll just link to another of my blogs. Check out LibraryThing. I've got to play around with my account and see if I can track my reading habits...
Wednesday, March 28th, 2007
---
7:48 am
- Now taking bets on what's going to emerge...

...from this weird interdimensional portal scientists have found on the North Pole of Saturn. I'm sort of glad we don't have hexagonal hurricanes on Terra, but if we did, we'd have to call them something sweet like HyperStorms.(source)
Wednesday, March 21st, 2007
---
10:59 am

I knew that, whilst it might appear that we are living on solid ground, the little pip of dust that we are "ghost riding the whip" on is in fact a moving object in a universe of moving objects, I never really thought that the sol system itself was kind of like a boat, with bow wake and turbulance... Around the fringes of the system, where the solar wind meets the interstellar medium, there's quite a bit of rough weather appearently. And you can't use a solar sail out there, so bring your ram scoop to pick up fuel from the intersteller medium.
link
---